High-quality, handcrafted glass from Sweden, since 1890
Målerås old glassworks was founded in 1890. This was the time when industrialism had seriously established itself in Sweden. In the village Målerås, solidarity and the spirit of new enterprise had an ordeal during the 1980s, when the glassworks was threatened by "outside capital" take-over as well as by closing-down. In order to reassure the future of the village, Mats Jonasson and 15 of his craftsmen decided to buy the glassworks from the current owners, Kosta Glasswork. Of the 250 residents of the village, 80 decided to invest in the newly owned glassworks.
Since 1981, Mats Jonasson has been gathering capable and skilled people around him. This concentration has yielded results beyond expectation and inscribed the works in the Swedish glass history as one of the most successful. The production of glass reliefs, which has characterized the glassworks, has turned into a profitable business. Since 1981 the number of employees has increased from 15 to 50.
Mats Jonasson attracted attention very early on as a talented designer. He started to work as an apprentice engraver at the glassworks in 1959. Over the next few decades he worked with some of the most respected contemporary glass artists in Sweden. During this period, he developed that natural style of his which he's since then perfected.
A beautiful example of a cast crystal sculpture handmade in Sweden, designed by Mats Jonasson.
Part of the cast crystal birds collection, handmade in Sweden - designed and signed by Mats Jonasson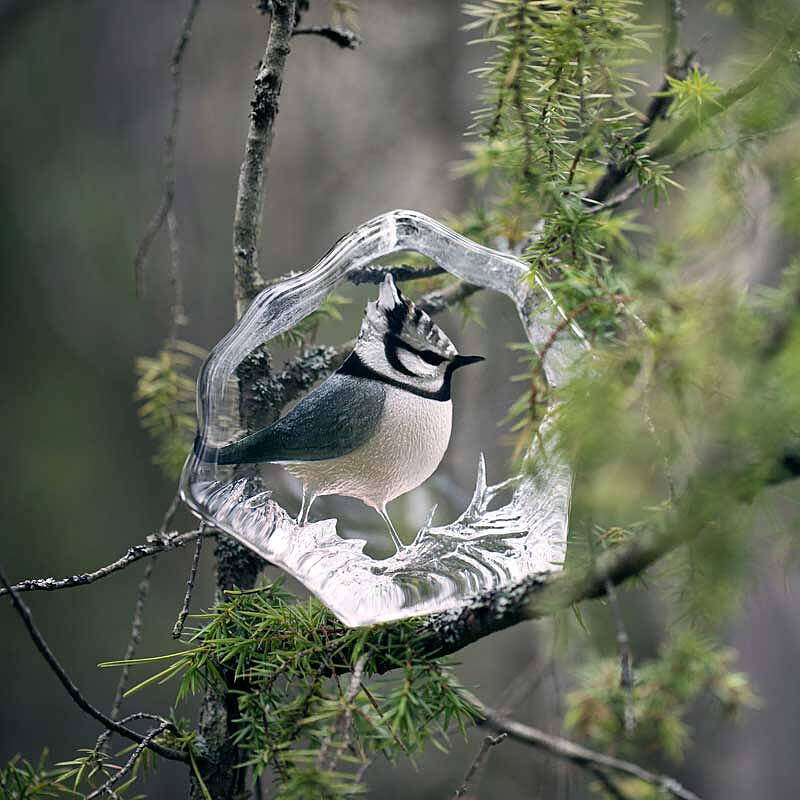 Cast crystal scultputre of a crested tit, handmade in Sweden and designed by Mats Jonasson
"Our forests have captured the hearts and minds of people since time immemorial", says Mats. Inspired by the natural world around him, he has opened his mind to create his distinctive masterpieces in the finest Swedish crystal. Nowadays, this son of the glassworks is represented all over the world.
Join our newsletter to be the first to discover new & unique pieces
Signup with your email address below to join our mailing list and receive
our newsletter with new glass pieces and special offers